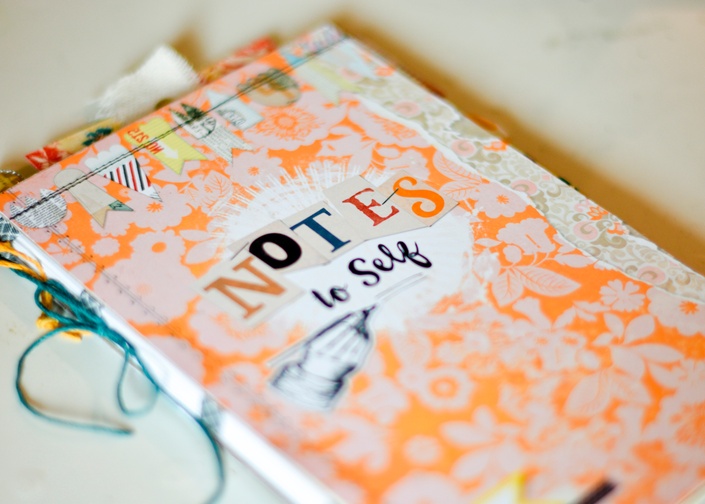 Digital Art Journaling
Create Gorgeous No-Rules Art Journal Pages in Photoshop!


I've spent a lot of time the past several years asking the question, "Where do tech and art meet?" The answer I've found - as with so many things in life is, "It depends!" It depends on what my end-product is (an album as a gift? a home-decor item? a banner for my blog?). It also has to do somewhat with where your heart lies:
Do you love paper, paint, ink, glue, & paint?
Do you love graphics, & Photoshop & the infinite possibilities that come with digital crafting?
In this brand-new Digital Art Journaling course, I'm so excited to explore them both. We'll be creating letter-sized pages that begin (as so many great designs do) in Photoshop (and Photoshop Elements, of course). With each lesson, you'll get all the digital supplies you need to start and finish 20 GORGEOUS digital art journal pages, and that's just the beginning! Using screencast video direct from Photoshop Elements, I'll show you how to install & use Photoshop brushes, install & use specialized type, and manipulate ephemera and graphics to create pages that are both beautiful and interactive. You'll install a bunch of awesome fonts, gather graphics and supplies, and use special Photoshop techniques I don't teach anywhere else. Oh, and we get to make an actual book at the end.
After saving each page, we'll print them out, whether that's on your home printer or at a commercial printing company, and create a physical journal we can then add our final touches to. For me, this is the perfect crossroads where art and tech meet. I've created 10 art journal spreads that are meant to be a little messy. They're designed to be unbound by the conventions of more traditional graphic design and scrapbooking. We'll use digital paint. Set things at jaunty angles, including string and hand-drawn graphics, and overlays and Photoshop filters.
We'll use Photoshop brushes, shadowing, overlays, layer masks, and filters to achieve some of the look of mixed-media art, and then we'll actually MIX the media by handmaking our book after we've printed all 10 pages out.
I'll show you my favorite binding method, complete with printed covers. After we construct the book itself, we'll add paint, bookmarks, rhinestones, page tabs, a pocket, hand-written phrases, and more! (A suggested materials list is included in the course).
And Photoshop. Yes.
I had an awesome time making these amazing digital art journal pages, and I think you will too!
Who Is This Course For?
Whether you're coming from a traditional mixed-media background (art journaling, mixed-media canvases, altered art), or whether you've only used Photoshop and haven't done much in the way of "hybrid" artwork (i.e. mouse-and-paper crafting), when we combine them we'll make magic, and this is the course for you.

This whole thing might seem a little intimidating. If you've been on one side or the other of the "digital divide" and Photoshop makes you nervous, or printing your stuff and making books makes you panic, this is the course for you. Art journaling is about expression, but it's also about skills.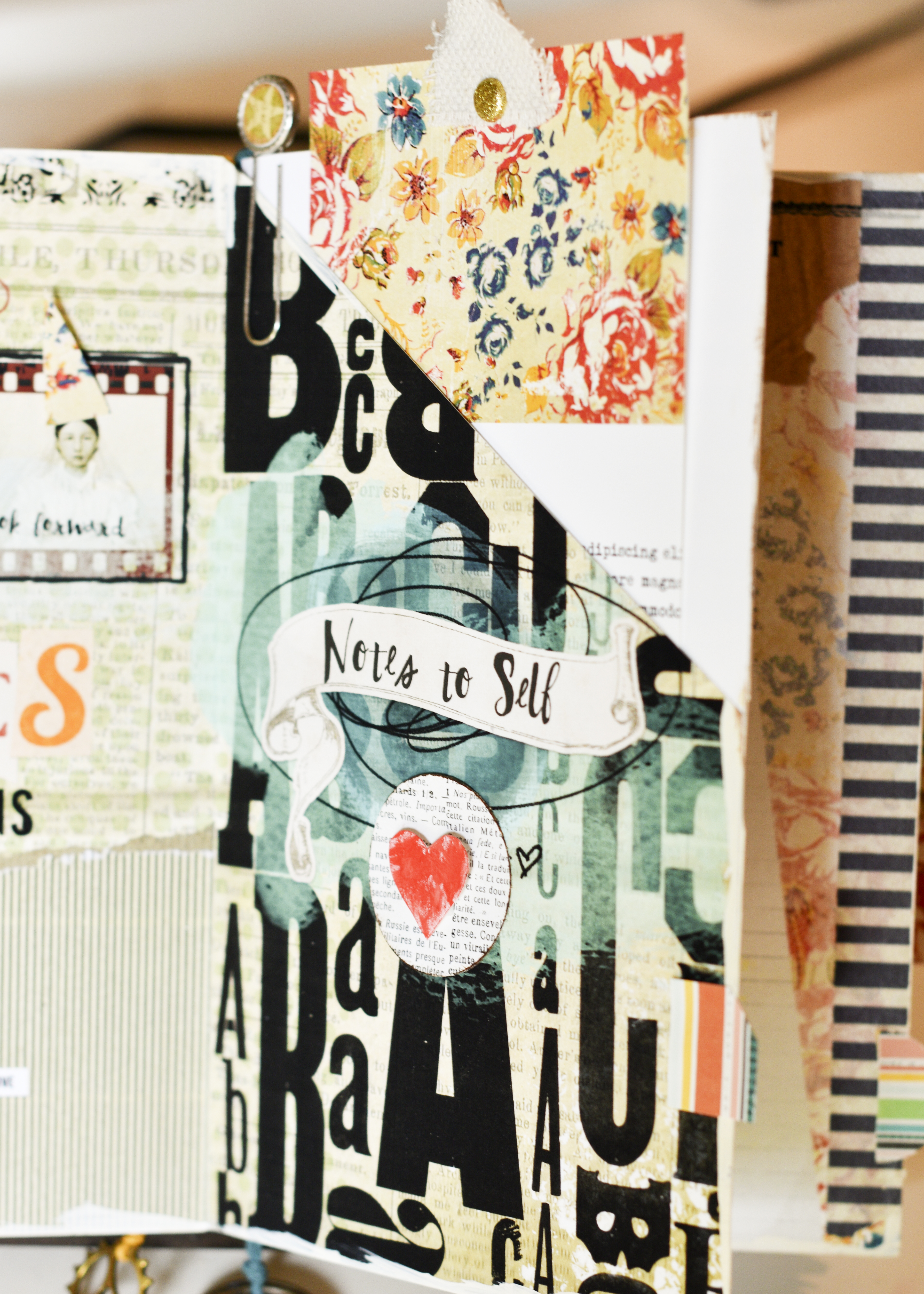 Let's design a pocket page, together!
What Skills Do I Need?
This class is primarily (but not exclusively) a Photoshop class. You'll be developing great Photoshop skills as well as flexing both your artistic AND journaling muscles to make each of our 20 pages (10 spreads). You WILL need to have a few basic Photoshop skills. The good news is that you can get the foundations in my FREE Digital 1 class, if you haven't taken that before. Register for Digital Art Journaling now, and then head over and take the Digi 1 course beforehand, and you'll be all set to expand that knowledge into some awesome new projects!
This course is massive. Larger and more detailed than any I've taught for years, with 14 lessons and more than 8 hours of video content as I walk you through each one of the 12 pages and the bonus book-building vids. You'll get the whole thing, dozens of different techniques and approaches, taught step-by-step in high-resolution screencast, plus accompanying instructions to help you follow along.
How Does the Course Work?
When you register for this course, you'll get immediate access to your homework, which includes:
A PDF with download links for the ALL the fonts you'll need
A list of download links to the free personal-use graphics I couldn't include in the kit itself
A list of physical supplies you can acquire from your stash or at the craft store, including acrylic craft paint, adhesive, cardboard for the covers, and more
When you register for our course, you'll also get:
Access to the private, permanent Facebook group for Digital Art Journaling, where you can ask and answer questions, and share projects and ideas with other digital and mouse-and-paper artists
Downloads for the digital course materials
Downloads for the digital course kit, with hundreds of items you can use in this and future projects, forever
Permanent access to all 11 lessons, 10 for Photoshop and one for print/assembly of our final project!
Register RIGHT NOW so you can begin downloading the supplies and items you'll need, and to view the physical course supplies.
What You'll Get
In addition to world-class video-based Photoshop lessons from the best in the business (ahem), you'll receive:
A digital course kit with all the supplies (or links to download) you'll need to create each page in Photoshop
A huge library of additional backgrounds, clip art, ephemera, photos, overlays, Photoshop brushes, and more
Printable prompt cards for subjects and techniques you can use to spark your creativity for future pages and projects
A list of all the (free) fonts we'll use in our journal and links to each
Tips on the BEST way to accomplish Photoshop basics such as layer ordering, shortcuts, and hotkeys
Step-by-step instructions for prepping and printing your files
Detailed instructions for how to construct & complete your own art journal using basic supplies
Skills and knowledge to last a lifetime
And that last bit? That's actually the most important one, as far as I'm concerned. This course is not only great fun in and of itself, with the awesome videos, cool projects, and the camaraderie you'll get in the Facebook group, it's also an investment in you. You really will use what you learn in projects of every kind, forever.
But let's not forget (because how CAN you, right?) that SO MUCH CUTENESS is coming your way!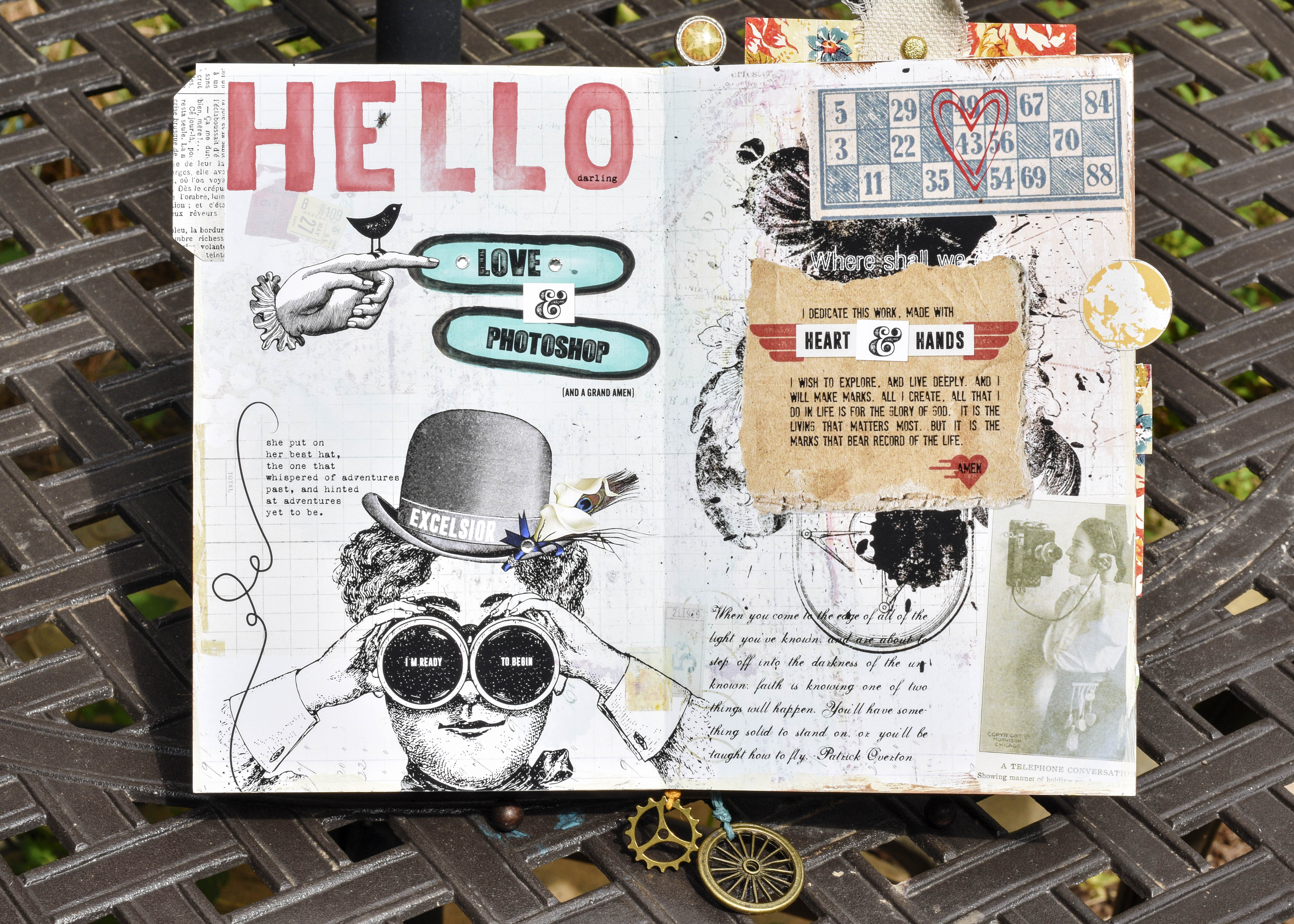 Here's the Dedication Page. Can you even stand it?
Your Instructor
Hi there! I'm Jessica Sprague, owner and instructor here at JessicaSprague.com. I founded JessicaSprague.com in 2007 to share the creative potential of Photoshop for crafting. I've been teaching Photoshop and graphic design, photo editing, digital scrapbooking, e-commerce, and online school development for a decade. It's my goal to help you build the skills and knowledge that will last you a lifetime. Learn more about me. Are you ready to start the journey? Join me!
Course Curriculum
Welcome
Available in days
days after you enroll
Lesson 2: Hello
Available in days
days after you enroll
Frequently Asked Questions
When does the course start and finish?
Registration begins on Friday, July 26! Grab a spot in the front row and download the homework and supply lists, and get ready for the course to begin on September 3! Back to school time is here, and it's just for you!
How long do I have access to the course?
How does lifetime access sound? After enrolling, you have unlimited access to this course for as long as you like - across any and all devices you own.
I have Photoshop Elements. Can I take this course?
Absolutely! In fact, ALL the video lessons are recorded primarily in Photoshop Elements. You'll learn right along with the videos, and you can pause, rewind and replay to your heart's content!
Is there a private Facebook group?
Yes! On the first day of class I'll give you the info to get your invite. You'll have permanent access to the group to ask and answer questions, offer and get ideas and advice, and share projects with your classmates. Can't wait to see YOU there!
Can I share the course or materials with someone else?
If that person is part of your own household (i.e. your child or your parent or grandparent who lives with you), then yes! No need to purchase two. BUT if you have a sister, a friend, an aunt, your mom, etc. who is not part of your household, you can purchase the course for yourself, and then contact me to grab another seat in the course as a gift and do the course together! Think of the fun you'll have!
Can I use the course materials for other projects?
Yes! All of the materials in our course, including the fonts or graphics I link to, are for PERSONAL USE ONLY unless otherwise specified, but you can use any of them in any future personal project without limitation. I would LOVE to see what you make!
What version of Photoshop do I need?
You'll be able to complete ALL of the course tasks in Photoshop Elements 11+ or Photoshop CS6 or CC. The video lessons are recorded in Photoshop Elements 2019. Where it's applicable I've included separate video segments to show specific techniques in Photoshop CC. You'll love what you can make!
Say I register and find that this class is not for me. Can I get a refund?
Yep. I think you'll love this class. I really do. But if you get in there and find that it's not for you? Contact me and I'll be happy to give you a refund. It's your hard-earned money on the line, and I stand by my promises.
I really believe that Photoshop is for everyone: artists and crafters and bloggers and parents and businesspeople and even kids. You'll use the Photoshop skills you learn in this course FOREVER. And what an investment! I get emails from people all over the world sharing projects they've made with their own creativity and Photoshop knowledge: gifts, albums, posters, flyers, items for school or Scouts or work, even school projects they've shown their kids how to make. Your creative potential is truly endless, and it's my great passion to show you how to unlock it. This is what I love, and it shows in every lesson I teach.
Got more questions before you register? Hit the HELP button in the bottom corner of this page and ask away!
I can't wait to see you in class!