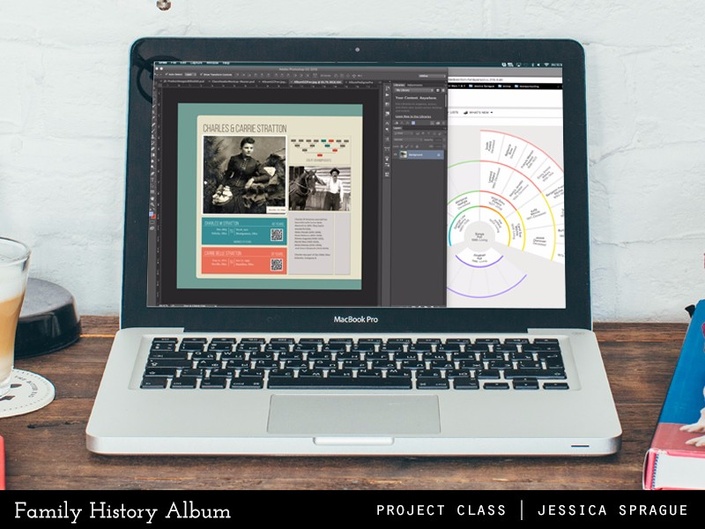 Family History Album Class
Create an heirloom-worthy, four-generation overview of your family history from start to finish!
Who Are You, Anyway?

When it comes to knowing who your ancestors are, you might have a few pictures of your parents, grandparents, even great-grandparents. You might be able to name some of their birthdates or where they were born. You probably have a collection of stories that were told to you buy an aunt or uncle, or a grandparent about themselves or another ancestor. That's all you need to be able to start this album. For many of us, family history can be intimidating (Especially if you say it with a voice like a judge handing down a sentence). I think that's because "family history" is a heavy phrase that has a lot of meaning and typically connotes a lot of work, research, effort, and - for most of us - TIME that we don't necessarily have to commit to a huge project, regardless of how important we feel it to be. And that's where I come in, and why I've designed this Family History Overview album. If you've never started a family history album, or you don't know WHERE to start in recording your own family history, you've come to the right place!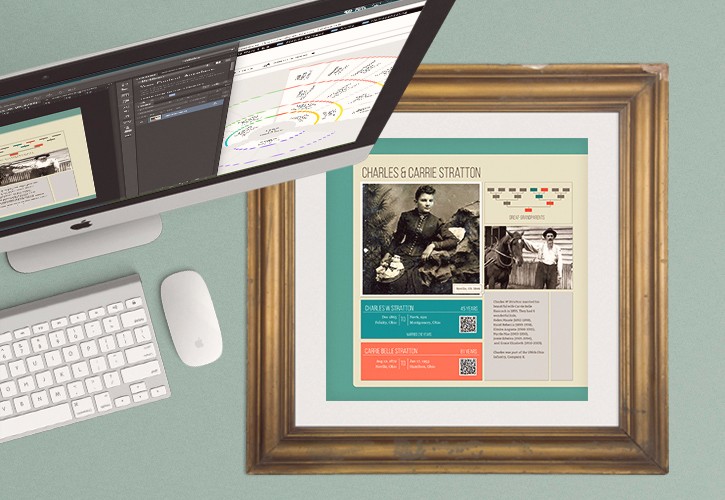 Our Goal: Document "Your Three Generations"
Sometimes the thought of opening that box of photos, or the cover of whatever huge journal or scrapbook you've inherited, or beginning to search online, or calling Aunt Lucy to see if she can remember what her grandmother's maiden name was can seem like a trip down a rabbit hole. So I've set a goal with this album to keep it simple: we are going to FIND, RECORD, and PRESENT your "Three Generations." For our purposes, this means three back from yourself: Your Parents, Your Grandparents, and Your Great-Grandparents. So if they aren't part of "Your Three," you can save that info for another time!
As far as the importance of at least a basic understanding of your ancestry? I agree with you: knowing who we are also involves knowing where we came from. Something about anchoring ourselves to our people helps give us courage to face our own future. Who are the people further back in the tree from you? When and where did they live, and in what circumstances? Why did they make the choices they did, that all followed down, like a line you can trace with your finger, to YOU. Marvelous! This gorgeous album is sure to become an heirloom in your family, cherished as a rich look into the lives of those who came before you.
NOTE: These albums make great gifts! You can create two albums for yourself and your spouse, each documenting "your three," or you can combine into one album for a child, with yourself as the parent, your parents as the grandparents, etc. It's up to you!

What To Expect in Class
This is THE place to start if you've been "meaning to get to those old photos" you inherited! We'll divide up the album with a 4- or 6-page section for each set of parents, grandparents, and great-grandparents (7 sections in all), and each section will contain information on that ancestors' Vitals, as well as a map & a timeline we'll make in class. But that's not all! Our class is project-based, but your experience will be anything but! I'll show you my favorite places to research family history, and we'll also be discussing strategies for digitizing and organizing photos, documents, memorabilia, and stories to continue our family history efforts into other projects (coming in the future). I can't wait!
You'll receive:
Templates for the album, including Vitals, Map, and Timeline pages, plus several configurations for photographs and journal cards
Video instructions for creating your own online family tree, researching records, and gathering data into a spreadsheet I'll provide
A full digital kit, including dozens of gorgeous, softly textured papers and embellishments
Journaling prompts for each section of the album
How To Prepare for Class
In this particular project, it will pay to get ready early. Here's what you'll want to begin gathering. I'll provide you with guidance on finding vital information as well as (possibly!) photos or news articles as part of class:
One Formal Photo for each set of ancestors - preferably wedding photos of your parents, your grandparents, and your great-grandparents. These will be the section headers, and this will be the main photo in that page.
2-7 additional photos of each of the above, and/or stories you'd like to include in the album. We're keeping the number of photos low, so we can, as they say, "git 'er done" and off the computer and into the hands of your loved ones!
Birth, marriage, and death dates and places for each of the above, plus additional facts such as places they lived or traveled, number of children, personalities, etc. If you're low on photos, the more of this vital information you can find, the better!
---
I'll Be Right There With You
This whole family history series is going to change your life. At the end of class, you'll have a deeper appreciation for the lives and circumstances of "Your Three Generations" than you had, and a gorgeous album to share that knowledge with your own family. These are YOUR people. Your tribe, that lived and struggled and fought succeeded, maybe farmed or worked a mine or in a city, who laughed and cried, met a partner and had a child, and the whole process started over, until you. They belong to you. And that belonging, to a rich and continuing story, is what I want to share with you. Register now, and I'll see you in class!
Course Curriculum
Introduction
Available in days
days after you enroll
LESSON 1: GATHERING YOUR "THREE GENERATIONS"
Available in days
days after you enroll
LESSON 2: GETTING READY! ORGANIZATION & PEDIGREE PAGE
Available in days
days after you enroll
Your Instructor
Hi there! I'm Jessica Sprague, owner and instructor here at JessicaSprague.com. I founded JessicaSprague.com in 2007 to share the creative potential of Photoshop for crafting. I've been teaching Photoshop and graphic design, photo editing, digital scrapbooking, e-commerce, and online school development for a decade. It's my goal to help you build the skills and knowledge that will last you a lifetime. Learn more about me. Are you ready to start the journey? Join me!
Frequently Asked Questions
When does the course start and finish?
This is a completely self-paced online course - you decide when you start and when you finish.
How long do I have access to the course?
How does lifetime access sound? After enrolling, you have unlimited access to this course for as long as you like - across any and all devices you own.
What if I am unhappy with the course?
We would never want you to be unhappy! If you are unsatisfied with your purchase, contact us in the first 30 days and we will give you a full refund.
What You'll Get

Lessons Released 3x a Week
With an instructor-led style class, such as this one, I'll be releasing lessons on Tuesdays, Thursdays, and Saturdays
Detailed HD Screencasts, Delivered by a Pro
All of the classes here at JessicaSprague come with gorgeous video instruction, broken down into project-based lessons and individual tasks within each lesson. This bite-sized approach to Photoshop makes it easy to understand, and you'll be amazed at what you can accomplish in just 30 minutes at a time! You can see first hand what I'm demonstrating, then try it for yourself right there! The freedom to rewind, relisten, and rewatch makes this course easy to follow, even with the most complex techniques. I'm right beside you the whole way!
Techniques You'll Use Forever
As a scrapbooker, instructional designer, and graphic designer, I teach techniques you'll find most useful, most interesting, and which deliver the best results throughout every layout you make. You'll gain the skills, knowledge, and confidence to create scrapbook pages that make your heart sing! I love watching pages come together, and I LOVE seeing students' work! I can't wait to see yours! Let's unfurl those creative wings together, right here!
Everything But the Photos
All you need for this class are your photographs! I'll provide downloads for everything you'll need to complete each project. In addition to the lesson projects, I'll offer challenges, extra information, links, downloads, and other materials designed to enhance your experience and deepen your understanding of how to use Photoshop. This is about YOU - your investment in yourself, and I can't wait to share what I know!
Permanent Access, at Your Pace
You'll take the class completely at your own pace (you never need to be online at a specific time), and all of the course materials are available to you FOREVER from your My Classes page here at JessicaSprague.com. Our classroom also features a private forum where you can ask and answer questions and participate in discussions, as well as share your beautiful work with me and the other students!
Register now! I can't wait to see you in class!